A Comparison of the Most Popular High-Performance Films
Teflon® and Kapton® films are two of the most popular high-performance films on the market today. Both possess outstanding performance features that make them an ideal choice for a wide variety of applications. Many of our customers have questions regarding which type of film would be best for their specific application. To provide our customers with complete transparency into the uniqueness of each of these products, we've broken down their differences below in an easily digestible format. Read along to discover whether Kapton® or Teflon® film is the best film to meet your product requirements.
Product Overview
Teflon™
Teflon™ is a distinct material that has many industrial, medical, military, and aerospace applications and is a registered trademark of ChemoursÔ. It possesses exceptional properties, such as resistance to harsh chemicals, tolerability of extreme temperatures, impressive dielectric strength, high optical clarity, and long-term durability. All these features combine when using optimal manufacturing and fabrication techniques to make Teflon® a stand-out performer in the most demanding environments.
Teflon™ films can be used in a variety of ways to meet the demands of your applications. The film can be custom heat sealed, thermoformed, and die cut to form almost any shape to enable use in the form of barrier sheets, release films, heat-sealed bags, and thermoformed parts. Using custom manufacturing processes, practically every application method can be achieved to take full advantage of the diverse properties of Teflon™ films.
Kapton®
Kapton® is a unique polyimide film that was invented and trademarked by DuPont in the 1960s. Over the years, it has proven its viability as the best flexible material of choice in applications involving extreme temperature variations. Kapton® possess a wide variety of excellent properties, which makes it a good fit to meet the demands of applications across many industries.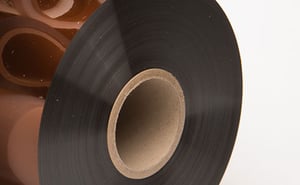 Kapton® organic polymer film provides protection through harsh processes through its dependable properties of high dielectric strength, unwavering performance in extreme temperatures, resistance to a variety of chemicals, and its ability to retain its shape and integrity over time. Kapton® film continues to redefine the ability of plastic films to meet new design and application needs due to its sterling physical, electrical, and mechanical properties.
Features
Broken down below are the top 5 properties of both Teflon™ and Kapton® film.
Teflon™
Chemical Resistance and Inertness
Chemical resistance and inertness are one of the most attractive properties of Teflon™. This film boasts the best chemical inertness of all plastics, which makes it a great choice to form a chemical barrier for your products. The only known chemicals that affect the carbon-fluorine bonds in Teflon™ films are some alkali metals and most reactive fluorinating agents.
Temperature Tolerance
Teflon™ film has one of the widest temperature operating ranges of all thermoplastics—making it a natural fit in high- and low-temperature applications. Its operating temperature range is from -400⁰F to +500⁰F (-205⁰C to 260⁰C).
Dielectric Strength and Insulation
Teflon™ films exhibit some of the highest dielectric strength of all plastics with insulation of 6,000 volts with just a .001" film. These impressive dielectric properties are also available at high radio frequencies.
Optical Clarity
Another property possessed by Teflon™ film is high optical clarity. With over 96% light transmittance for a .001" film, there's practically no loss of visibility. Light transmittance does decrease as the thickness of material increases, but it's a nominal change—even at .005" film, transmittance is still over 94%.
Weatherability/Durability
Most Teflon™ films are rated for over 20 years of use—needless to say, this product is in it for the long haul. The superior anti-stick and low frictional properties this film is most noted for will not waver over time.
Kapton®
Chemical Resistance and Inertness
Kapton® film provides superior chemical resistance as it has no known organic solvents.
Temperature Tolerance and Resistance
Kapton® film has one of the most impressive temperature tolerance ranges for applications involving exposure to massive temperature fluctuations. Kapton® can accommodate temperatures between -452⁰F to 752⁰F (-269⁰C to 400⁰C).
Flammability and Melting Point
Kapton® film has the highest UL-94 flammability rating of V-0. Additionally, the material does not burn and has no known melting point.
Dielectric Strength
The exceptional dielectric strength of Kapton® film makes it the perfect material for thin electrical insulation uses. With a dielectric strength rating of 7700 V/mil for a .001" film, Kapton® is the strongest material on the market for protection in tiny spaces.
Dimensional Stability
Another property that Kapton® film excels in is dimensional stability. Under normal operating conditions, Kapton® film exhibits shockingly low amounts of shrinkage—typically .17% - .25%% shrinkage of the material. When exposed to extreme temperatures (400°C, 752°F and up), the film displays a relatively low 1.25% shrinkage factor. To further tailor the film to heat-intensive applications, heat treatment can be applied before final conversion to per-shrink the material. By completing this post-extrusion process, Kapton® film sees a drop to .03% shrinkage across its temperature range.
Applications
Teflon™
Teflon™ film is suitable for a large range of applications. With its high-temperature tolerance, Teflon™ materials are a great fit for applications in cryogenic storage, space exploration, or high-temperature insulation. This film is also regularly used in situations where direct contact with acids, petroleum products, and other caustic materials are common. Teflon™ films are made of virgin materials without plasticizers and have a USP Class VI certification, making them ideal for sensitive applications in the medical industry. Teflon™ bags can be utilized for vaccine production, cell culture, and other biochemical uses. The optical clarity of Teflon™ creates an optimal film for covering viewing windows, glass lights, and light fixtures without being obtrusive. Finally, the durability and resistance to environmental conditions make Teflon™ a common choice for outdoor coverings of greenhouses and stadiums.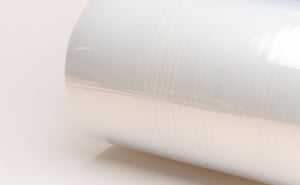 Listed below are some common applications for Teflon™ film:
Cryogenic storage
Aerospace products
Temperature insulation
Vaccine production
Protective coverings
Chemical storage bags
Chemical resistant liners
Release film
Biopharmaceutical cell cultures
Lens covers
Autoclavable storage bags or liners
Coverings for stadiums, greenhouses, and other outdoor venues
Kapton®
Kapton® film is used in a large variety of applications. It is a viable substrate for capacitor insulation, flexible printing circuits, transformers, bar-code labels, and sensors. The film can also be utilized for cable and wire tape, motor slot liners, insulation of magnetic wire, magnetic and pressure-sensitive tapes, and tubing. To add adhesive capabilities to this already versatile material, lamination can be applied to the film. Kapton® film's impressive physical properties make it an ideal fit for applications spreading across multiple industries—even in outer space.
Listed below are some common applications of Kapton® film:
Mechanical parts
Electronic parts
Electrical insulation
Pressure-sensitive tape
Heater circuits
Tubing
Heat sealable bags
Screen printing
Fiber optics cable
Insulation blankets
Insulation tubing
Diaphragms for sensors and manifolds
Etching
Shims
How American Durafilm Can Assist Youamerican
If you are still unsure of which film is best for your application, please contact us to get in touch with one of our high-performance film experts. We can discuss your current needs and recommend a custom solution to meet all of your expectations. American Durafilm® offers high-performance film lamination, rewinding, slitting, and packaging services for Kapton® and Teflon® films and can satisfy any converting request—with quick responses and fast lead times.