A Superior Combination for Tissue and Cell Preservation
Kapton® polyimide films have been hard at work for over 45 years, and have been used in cryogenics for 30 years. These cryogenic bags are the superior choice for lab work that needs the paramount protection and preservation. The biosciences depend on Kapton film bags for easy and safe cryopreservation.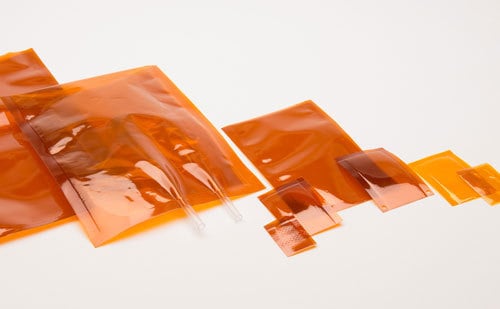 More specifically, Kapton cryogenic bags are often used for tissue samples and organ storage that need to be maintained at cryogenic temperatures. These bags offer a superior barrier to liquid nitrogen (LN2), and can be used alone, or in combination with other films as an outer layer to protect contents from damage during the freezing process.
Why Kapton bags for cryogenic storage? You ask. We tell.
Cryogenic Capabilities of Kapton Bags:
Perform triple duty: protect, store, and freeze—ensuring product usability, post-thaw
Useable temperature range from -400°F to 400°F
Gas impermeability allows for direct immersion or storage in liquid nitrogen
Retain flexibility after severe temperature fluxes, with no significant decrease in mechanical strength
Exceptionally high tear strength and impact resistance
Available in thickness from 1.2 mils to 5.0 mils
Combine well with other films, such as FEP, which has unsurpassed biocompatibility
Versatile application uses—depending on protection needs, can be used alone or as an outer layer
Inert properties prevent leaching or extraction of the stored tissues or cells
Adaptable sealing options—self-adhesive tape seal or standard heat seal
can be used
Can be produced in different sizes and shapes, with custom tube and port fittings
Customization allows for silkscreen printing directly on the bags for writing surface, safe ID
Manufacturing options allows for other customization, such as a convenient tear strip for easy access to the product, post-thaw
Kapton film is the optimal choice for cryogenic bags that will not be compromised during the preservation process, maintaining the integrity of the material stored inside. It's clear that Kapton bags offer many choices for many applications, and American Durafilm can customize bags to suit your varied needs, across industries.
Due to their many properties, Kapton films provide options far beyond cryogenic storage of biological samples. To learn more about why Kapton film is such a versatile and preferred protective film that provides solutions in many industries, download the white paper, "Create Your Innovative Solutions—Top 4 Properties Kapton Films Provide."