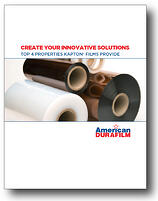 Extreme Temperature Resistance Is a Hallmark Property of Kapton® Films. We are often asked about the temperature range capabilities of Kapton® film. Kapton® film is known for its ability—and relied on—to withstand extreme temperatures. With operating temperature ratings from -269°C (-452°F) to 400°C (752°F), Kapton® films have an incredibly wide range.
Versatile Applications
This ability to survive and maintain dependability at extremes has allowed Kapton® films to be the choice for deep space, cryogenic, nuclear, military, and other high/low-temperature insulation applications, such as extensive use in the electrical industry. Kapton® films also carry the prestigious V-0 UL94 flame rating, as they are thermoset plastics that do not melt or burn. With a Teflon® FEP film laminated to the surface, wire wrapping and spiral tubing is possible. This layer also allows Kapton® film to be heat-sealed into a pouch to provide an excellent cryogenic storage solution, especially when exposed to LN2.
Kapton® is an organic polymer film that provides protection through its reliable properties of dielectric strength, high-performance at extreme temperatures, resistance to most chemicals and many solvents and oils, and overall ability to retain its integrity over time and in so many conditions. American Durafilm®, having been in business with DuPont™ as one of the three original licensed carriers of their proprietary materials for 65 years, helps customers find the right solutions for many situations.
For more details on Kapton® film and to learn about how you can "Create You Innovative Solutions: Top 4 Properties Kapton Films Provides," download our white paper now.