Protecting Those Who Protect Us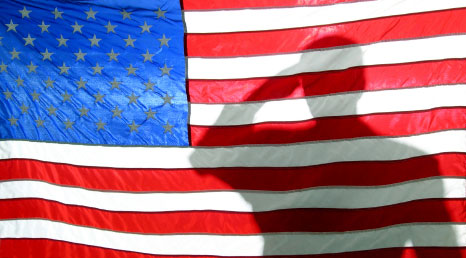 To say that military conditions can be harsh is an understatement. Lives, governments, and countries are at stake when conflicts rage. When brave soldiers are at work doing the job of protecting our freedoms, they shouldn't have to give a second thought to the details of how their equipment and transportation protect them. Kapton® film helps keep them safe.
The dependability of Kapton® film is widely known—and used—across many industries. Its thin, lightweight, excellent tensile strength, tear resistance, and dimensional stability provide countless solutions to industries, companies, and consumers.
Armed with Force
Military uses span the five armed service branches and help safeguard situations that can range from overarching applications requiring fire and electric insulation to the very specific functions of low outgassing in a vacuum or heating system, or resistance to radiation, fungus, and chemicals.
Military Muscle—Kapton® Keeps it Real
High temperature

Kapton® polyimide film is flexible and can be used in items such as a gas tap with a shut-off device because of its high temperature resistance and ability to retain flexibility under temperature duress. It is fatigue resistant and ensures complete security and efficient functioning of safety devices of this nature.

Non-flammable for use in safety equipment

DuPont™, manufacturer of Kapton® polyimide film, points out that Kapton®'s non-flammable properties can actually help stop fires; it does not propagate flame and is not a fire fuel. Its fire resistant ability makes it the perfect insulation choice for a host of military vehicles, craft, and equipment.

Transparent

Widely used for photovoltaic substrates and electronics for 50 years, the transparency of this thin, flexible film allows for clear viewing through Kapton® film to circuit boards, windshields, and windows, for example.
Kapton® is an organic polymer film that provides protection through its reliable properties of dielectric strength, high-performance at extreme temperatures, resistance to most chemicals and many solvents and oils, and overall ability to retain its integrity over time and in so many conditions. American Durafilm®, having been in business with DuPont™ as one of the three original licensed carriers of their proprietary materials for 65 years, helps customers find the right solutions for many situations. Protecting lives, protecting the future—Kapton® films keep us strong.
To learn more about why Kapton® film is such a versatile and preferred protective film that provides solutions in many industries, download the white paper below.