Teflon® FEP, Teflon® PFA, and Tefzel® ETFE Options as Well!
Your high-performance film product options just got even better! American Durafilm® already offers custom rewinding, slitting, and packaging services and can satisfy any converting request—with quick responses and fast lead times. Add lamination of high-performance films to that list, and your application choices have just increased.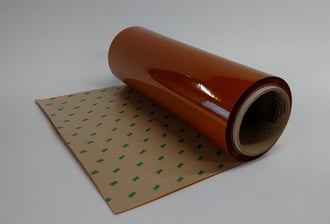 So have the benefits to your overall resources when using our advanced adhesive lamination technology. You can save time, money, and materials while creating viable solutions for applications and possibilities for markets. The adhesive on laminates allows for easy application, which translates to cost savings for resources across the board.
Save time, money, and materials on:
Sourcing and procuring rivets and fasteners

Engineering considerations for adhering film in challenges spaces

Application and adherence challenges
Products We Laminate
American Durafilm's new lamination capabilities allow us to take almost any of the films that we currently sell and add an adhesive backing to them. We can apply the adhesive to most Kapton®, Teflon® FEP, Teflon® PFA, and Tefzel® ETFE films. Current offerings include genuine 3M acrylic and silicone materials and there is always a liner included for easy handling. Custom applications are always welcome for special adhesive needs. We also offer custom sheeting, roll slitting, or die cutting services to allow these laminated films to be used in a wide range of applications.
More Uses—Versatile Applications
The need for alternate fastening options for the various high-performance film products comes more out of necessity. Because film is used so extensively and diversely in industries spanning military, medical and biopharmaceutical, aerospace, electric componentry, and food processing, its application in otherwise tricky fastening scenarios can create challenges. Adhesive-backed materials are typically used in situations when there are no mechanical fasteners available for where the film needs to be applied. This allows these high-performance films to have a peel-and-stick option, rather than some other—less efficient or streamlined—method for attaching them.
Think of the Possibilities
Here's the rundown—we can laminate:
High-quality single- or double-sided adhesive products

A broad range of materials

Up to 24" wide

Between .001" and .020" thick
American Durafilm will be applying acrylic and silicone adhesives to our Kapton®, Teflon® FEP, Teflon® PFA, and Tefzel® ETFE products to allow customers more options when purchasing film. The laminations are available on a custom basis; at this point, we are working on a list of standard offerings. The standard adhesive thickness will be .002" for either acrylic or silicone adhesives. With our specialized equipment and processes, we can provide tight tolerances and fast setup services to meet your needs. We can fill large quantity orders as well as small prototype runs—and can do so with quick, two- to three-day turnarounds. Think of the possibilities!
American Durafilm was founded in 1949 and became one of the three original charter members of the DuPont™ Licensed Industrial Applicator program of Teflon® coatings. Since that time, American Durafilm® has become a leading solutions provider and refined the processes to create a full-service location for high-performance project requirements.
Contact us to explore your solution possibilities in more detail.