American Durafilm® Adds New Vacuum Recovery System
American Durafilm® recently added a new vacuum recovery system that not only doubles the capacity of the sandblaster, but also halves the recovery time while prepping customer parts for fluoropolymer coatings. The new unit will also allow for more accurate grit blasting and will significantly reduce processing time for customer orders during the preparatory phase. With the addition of the new system, we are looking at cutting down lead times, reducing rejects, and decreasing potential damage to surfaces that are to be prepped for fluoropolymer coating.
What Is Grit Blasting?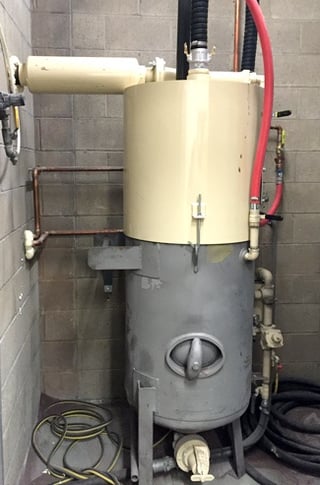 Grit blasting is typically the most crucial step in the preparation of the materials we coat. The process allows for thorough cleaning of the surface to be processed and also allows us to add a surface profile that will promote adhesion. This process can be done to almost any metallic substrate, as well as some ceramics, and coating manufacturers recommend it as an essential component for the application of almost all dispersions.
As a part of this process, abrasive media is accelerated through a blasting nozzle by means of compressed air. The media used is typically 320-grit or 60-grit aluminum oxide, depending on the type of finish needed for the job. Glass bead can also be used to clean surfaces if a finer finish/polish is needed. Blast pressure is adjusted according to the sensitivity of the work being done.
Reusing Equipment
Grit blasting also allows for the successful rework of metallic substrates. We are able to not only rework parts should there be a coating defect, but customers can also send materials back when the coating wears out. This allows customers to reuse the same equipment over and over again by recoating it, rather than having to replace expensive components each time the coating wears out.
Solving Problems—Delivering Products
We prep correctly because everything we coat is designed to solve a problem for our customers. Whether it's Teflon® coating on pipes to keep the metal from degrading or coating food service molds for repeated high-temperature exposure, quick release, and easy clean properties. It's all in picking the right coating for your end needs. Some factors to consider:
Abrasion
Chemical
FDA compliancy
Temperature
Wear resistance
We also have vast capacity to deliver on diverse customer requirements:
6 ovens ranging in size up to an 8' x 8' x 13' cavity
Small minimum order
Ability to also handle large volumes
One of 3 original DuPont™ (now Chemours™) licensed industrial applicators—offering years of experience dating back to our founding in 1949.
Diversity of parts: shapes, sizes, substrate materials, etc.
Can spray prototypes/test materials
Short lead times with possibilities for expedited service
American Durafilm® is the oldest and most experienced Licensed Applicator of Chemours™ Teflon® coatings in the United States. We also have over 30 years of experience with the application of Whitford™ Xylan® and Dykor® coatings, These capabilities also extend to Halar®, MolyKote®, Emralon®, and Everlube®. Our experience with both liquid and powder formats allows for almost limitless possibilities.
The versatility of these functional coatings allows for almost unlimited applications across a wide variety of substrate materials, part sizes, and configurations, always adding value far beyond the inherent nonstick qualities.
Contact us and see how we can leverage the unique material properties and our processes to add value to your product design.