Solving a 50-Year-Old Problem
Once you put your critical or caustic sample inside your field sample bag, how do you close it?
Perhaps you've been using the standard protocol of either a clamp made of some other material, or have invested in expensive heat-sealing equipment that requires time, training, and resources to operate. Either option creates an extra step in your process, can present a rash of problems, and is inconvenient to use.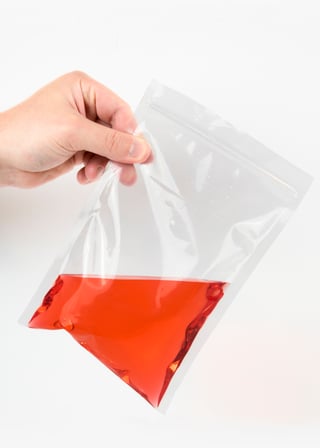 Possible Problems with Current Sealing Protocols
Closures must be completed by a trained hand, whether clamping or heat sealing: inconsistency can compromise the quality of the sample
Human error—can you guarantee a proper seal every time?
The costs in time, equipment, and resources to run heat-sealing machines is perpetual and can be impossible when out in the field/lab/space
Lower quantities and slower turnaround for the clamping or heat-sealing step
You may not always have a source for electricity in the field
If your heat-sealing machine malfunctions in the field, you're stuck
Problems solved: American Durafilm has created the first and only 100% FEP Duralok™ technology.
What Does that Mean for You?
Durability, and a secure liquid and airtight enclosure for your critical or caustic sample bags—though not rated for pressure. It means no more clamps or expensive heating equipment or extra time and resources spent to properly seal your field or lab sample bags.
Duralok™ is available in our online store.
FEP and Kapton® Film Benefits
You get all the same versatile benefits of FEP and Kapton® film:
Withstands high-temp applications up to 400°F (200°C)
Suitable for cryogenic use: -400°F (-240°C)
Autoclave resistance
Visually clear and provides a high transmittance of UV light
High resistance to impact and tearing
No electrical tracking, non-wetting, and non-charring
Anti-stick and low frictional properties
Inert for non-contaminating samples, including acids
Low permeability to liquids, gases, moisture, and organic vapors
Weather resistant
Chemically inert and solvent resistant to virtually all chemicals (except molten alkali metals, gaseous fluorine, and complex halogenated compounds at elevated pressure and temperature)
Lower permeability to liquid nitrogen
Varied Uses Include, but Are Not Limited to:
Cryogenic storage
Chemical storage
Extreme temperature storage
Stem cell bags
Size Options
There are six standard sizes to choose from for Duralok™ bags, and they range from either 5 mil (.005") FEP or Kapton® 500FN131 (.005"). Almost any custom size is available.
6" x 6"
6" x 8"
6" x 12"
8" x 8"
8" x 12"
12" x 12"
Take a look at how you can now solve the most pervasive problem that has plagued FEP and Kapton® bags since their inception almost 50 years ago.
We're excited to offer the first and only resealable Duralok™ bag to you. We think you'll be, too. Contact us to find out how Duralok™ can help solve your storage issues in the lab or field.