Read the 10 Top Reasons to Choose Polyimide Tubing for Your Next Project or Product
Polyimide tubing's set of unique characteristics makes it the ideal choice for a number of industries and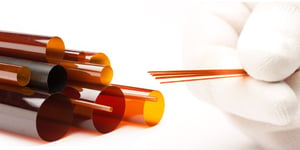 applications. It has various properties that make it ideal for medical devices, aerospace industries, and electric applications, such as (though not limited to):
Superior thermal resistance
High-voltage resistance
Chemical corrosion resistance
American Durafilm recently updated our white paper, "Top 10 Reasons to Choose Polyimide Tubing" with an update to the ID size range and technical data. Have you downloaded your new copy yet?
Wondering what the first reason to choose polyimide tubing is?
It's capable of tight tolerances.
When performing procedures in the head, heart, neck, and body, tight tolerances aren't merely a preference—they are imperative in USP class IV medical devices. It's why polyimide tubing is the optimal choice of material for applications that require tight tolerances. But life-or-death surgery isn't the only tight tolerance instance that polyimide saves the day for—think aerospace missions and electrical insulation for big jobs done in tight spaces.
Read more by downloading the white paper for free.
And there is more! Here's the tip of the iceberg about its nine other exceptional characteristics:
2. High Dielectric Strength: perfect for projects or products that require insulating capabilities

3. Biocompatibility: the chemical inertness of polyimide tubing allows for its extensive use in internal surgical procedures

4. High Tensile Strength and Burst: high-pressure fluid and irrigation systems rely on its rupture resistance

5. Transferability of Torque: its tensile strength shows superior performance compared to other medical-grade plastics

6. Kink Resistant: extremely important to facilitate invasive medical procedures, this characteristic is a vital consideration

7. Extremely Smooth Surfaces: smooth, flawless surfaces are intrinsic to its success as an exceptional high-performance polymer

8. High Column Strength: being compromised by compressive stress is a variable that is mitigated when pushing tubes through treacherous pathways

9. Ability to Bond without Surface Preparation: having various simple surface preparations available provides flexibility for adhesives

10. Excellent Compatibility for Laser Machining: design options and unique features help optimize your end-use product and performance efficacy
To get the complete discussion—and the updated ID size range and technical data—download the entire white paper now.
Polyimide tubing could be the solution for your next project. We hope this white paper helps you envision all the possibilities. Our team at American Durafilm provides turn-key solutions with customized designs, specifications, and certifications. We have the flexibility to use or adapt existing processes, or develop new processes to meet your design requirements—working with you every step of the way. Contact one of our experts to discuss the design and scope of your next project.