Durable and Diverse Features of Large Diameter Polyimide Tubing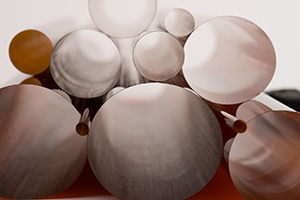 Because polyimide tubing is a thermoset polymer, it cannot be re-flowed or melted. Thermoset materials are typically durable materials due to their strong covalent chemical bonds that hold the structural units together on the molecular level. This means that polyimide tubing, among its other impressive characteristics, cannot be melted. That's a preferential property for large diameter polyimide tubing that is used so often in such a wide range of applications—from medical devices and industrial applications to the electrical and aerospace industries. Polyimide tubing is chosen across various industries for its many other properties, because it also offers superior thermal resistance, high voltage resistance, chemical corrosion resistance, along with other capabilities like outgassing, anti-nuclear radiation, and optimal flexibility.
The large diameter polyimide tubing that American Durafilm® provides, = / > 0.090" ID, can be produced with tight tolerances, thin or thick walls, and very low concentricity ratios to make it an excellent choice for a wide range of applications. Low concentricity ratios and consistent tight dimensions virtually eliminate weaknesses in the tubing. These key attributes improve the tubes' performance in demanding applications. Large diameter tubing can be trimmed to very short lengths or laser machined with holes and unique features. It's so versatile, ask about adding thermoplastic jackets and tips for medical applications and specially formulated coatings to provide release properties at high temperatures and to bleed static charge.
Specific Applications of Seamless Large Diameter Tubing
Medical Applications: ID sizes 0.1000" to 0.375"
Scopes
Sheaths/sleeves
Balloon catheters
Spacers
Non-Medical Applications: ID sizes 0.100" to 3.0"; Length sizes as long as 60"
Transfer tubes for chemicals and gases
Testing sleeves
Thermal, electrical, and chemical insulation sleeves
Heat exchangers
Protection sleeves
Seamless Tubing vs. Spiral Wound Tubing: American Durafilm Uses Seamless Tubing
Seamless tubing wall thickness not limited by film thickness as in spiral wound
Seamless tubing physical properties not limited by adhesive properties as in spiral wound
Seamless tubing, overall, is superior to spiral wound polyimide tubing
Customer-Specified Specialties
Shaped
Flared
Necked
Laser cut
Length
American Durafilm® Tubing Division is a custom manufacturer of seamless, heat-resistant, and chemically inert thermo-set polyimide tubing, providing the widest size range of seamless polyimide tubing in the industry with ID sizes starting as small as 0.005" and as large as 3.00", and offers the widest ID size range of medical grade tubing available in the industry: 0.005" to 0.375". Wall thicknesses can range from as thin as 0.0005" to as thick as 0.020"—depending on the tube diameter. Polyimide can be produce in colors such as natural amber, black, dark red, crimson, and green. Lubricious composite coatings can be applied to the ID, OD, or both. All of the polyimide tubing at American Durafilm® is manufactured to your meet your exact specifications.
The experts at American Durafilm provide turn-key solutions with customized designs, specifications, and certifications. They have the flexibility to use or adapt existing processes, or develop new processes to meet your design requirements—working with you every step of the way.
Polyimide tubing is a fantastic choice for your next job. To read more about why, download the white paper, "Top 10 Reasons to Choose Polyimide Tubing."