Part 3 of 3: The Case of the Teflon®-Coated Piano Wire and Cookie Dough
What relationship could a piano wire possibly have with cookie dough, you ask? None—if it's just an ordinary piano wire. On the other hand, a Teflon®-coated piano wire has everything to do with one company's cookie making success.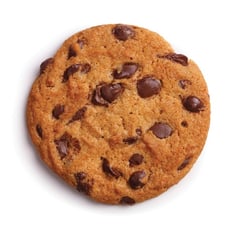 That's right! A cookie company in New Mexico was looking for a solution to facilitate the process of cutting cookie dough into flat cookies. The dough came out in the form of long tubes and it was to be cut at a specified thickness.
Upon further research and brainstorming, somebody suggested that they use a piano wire to cut the dough. It sounded like a great idea until they actually tried to cut cookie dough with it. While the accuracy of the wire worked well to cut the dough to the required specification, the dough kept sticking to the wire. Naturally, the next step towards a solution required they find a way to keep the cookie dough from sticking to the cutting wires.
American Durafilm® was approached with this problem and we suggested coating the piano wire with Teflon® because it withstands high temperatures and offers the lowest coefficient of friction of any plastic, thus rendering it non-stick. Now the company sends us rolls of piano wire, which we cut into different lengths, and coat with Teflon® before shipping it back to them. They love the way their cookies are cutting—their process is now clean, efficient, and precise, with no wasted dough or extra clean up time.
More Uses of Bakeware Coating
Did you know that the same coating used on baking pans at home could solve an industrial problem? Sometimes you don't realize that there may be an answer to your problem or that there is even a problem. American Durafilm® provides answers you don't even know you need!
For instance, American Durafilm® came up with a unique solution to use bakeware coatings on all sorts of plastic sealing equipment and molds, including all the molds a speaker manufacturer uses to make speakers for cars.
Not Just Any Coater
As a customer, where can you go with a problem and know that your supplier can fix it—from inception through production and delivery?
Knowledge Stream—As our customer, you get the benefit of having an entire production arm at your disposal! We don't separate R&D from production, so we know what the process entails, right from step one—and we work closely with you throughout the entire process.
One-on-One Attention—If you have a problem, someone will pick up the phone and listen. Once we understand your concerns and pain points, you don't have to shoulder your problems alone. We have the infrastructure to support your needs and will work towards finding your unique solution.
Samples and Retries—We know that you want to be able to physically see if your product will meet your needs, and because we have the ability to provide samples, you can test the samples and come back to the same place for production quantities. Samples can turn into production run, not just verbal promises. If your needs change and the sample doesn't meet your needs, we will retry. Our focus is to find a viable solution and we will keep at it until you are satisfied with the results.
American Durafilm® is the oldest and most experienced licensed applicator of Chemours™ Teflon® coatings in the United States. We are also an approved applicator of Whitford™ Xylan® coatings, as well as Dykor®, Halar®, Emralon®, Everlube®, MolyKote®, and hundreds of other functional coatings designed to improve and enhance the performance of your products.
Download our white paper, "Selecting the Correct Fluoropolymer Coating for Maximum Performance," to learn more about how to select the right coating for your next job. At American Durafilm, we help customers find the right solutions for many situations—contact us if you want to discuss how we can help you.