Tedlar® Film Offers Gas Permeation Resistance for Gas Sample Bags
DuPont™ Tedlar® PVF film is a biaxially oriented and highly functional film that provides long-lasting finish, making it a much sought after high-performance material.
Apart from being used in a wide variety of industrial market surfaces, its chemical inertness and resistance to gas permeation makes Tedlar® a top choice for scientific pursuits that require gas sample bags. Sample integrity is assured as Tedlar® release films offer gas permeation resistance into and out of the sample bags.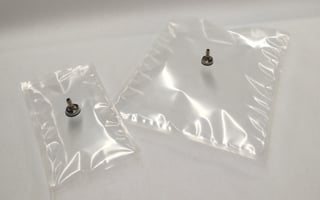 What Are Gas Sampling Bags?
Gas sampling bags are whole air sampling devices useful for monitoring part-per-million (ppm) levels of volatile organic compounds (VOCs) and permanent gases. Used for industrial hygiene, landfill/biogas, ambient air, indoor air, and stationary source testing, sampling bags are a cost-effective alternative to canisters and solvent desorption tubes.
Because Tedlar® is chemically inert, it will not react with or alter the composition of the wide range of collected chemicals in your sample. Gas sampling bags made of Tedlar® PVF film are recommended in many US EPA methods including toxicity characteristic leaching procedure (TCLP) and methods TO-3 (VOCs), TO-12 (NMOC), TO-14A (VOCs), TO-15 (VOCs), ASTM D-5504 (reduced sulfur compounds) and a variety of atmospheric gas methods.
Find the Bags You Need
Sizes available from 0.5L to 100L
Lightweight and easy to use
Tedlar® release films are rated for continuous use from -72°C to 107°C (-98°F to 225°F).
Available with:
Polypropylene fitting for 1/4" OD tube or septum (included)
Polypropylene ON/OFF and Septum Fitting
Stainless Steel ON/OFF valve
Distribution
As the sole distributor of industrial and aerospace Tedlar® films in North America, American Durafilm® stocks Tedlar® PVF film at 64″ wide and offers rewinding or slitting to any custom dimension down to .375″ in width. These films are available in gray, white, clear, opaque, and yellow.
Tedlar® PVF film also comes with different surface characteristics—allowing for one-sided or two-sided adherence for bonding to a wide variety of substrates and is compatible with many classes of adhesives, including polyester, epoxies, rubbers, and pressure-sensitive mastic.
Place an order at our online store for any of the following types of DuPont™ Tedlar® films:
TST20SG4 (gas sample bags)
TGY85SL2 (HVAC duct work)
TWH10BS3, TGY20BE3, TWH20BS3, TTR10BG3, TCW20BE5 (aircraft interiors)
We'd be happy to answer any questions you have related to Tedlar® or gas sampling bags. Contact us to get the conversation started.