Part 1 of 3: What Does Your Waffle Have to Do with Our Teflon® Coating?
To put it very briefly, the answer to that question is … everything.
Chemours™ (formerly DuPont) Teflon® industrial coating is very popular with the food processing industry because of its release properties and high-temperature resistance. If not for the Teflon® coating that goes on the waffle mold or tray, your waffles might not taste the same or pop out as perfectly (and crunchy) as they currently do—resulting in the needless trashing of so many waffles! The same goes for all your ice-cream cones and muffins.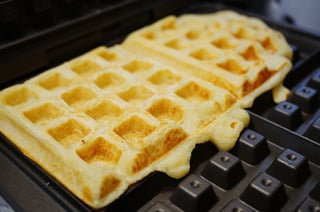 Coating the equipment with liquid lubricants is not an option for the food processing industry because liquids can distinctly alter the taste, smell, or consistency of the food that's being processed. This makes Teflon® an excellent choice of coating material for the following reasons:
FDA compliant
Resistant to hot water, oils, fats, and steam
Withstands extreme ranges of hot and cold temperatures
Non-stickiness
Quick mold release properties
In addition, the high-release coating properties of this food-grade coating minimizes downtime and expense by allowing for continuous production—without requiring a large amount of time for cleaning or removing equipment during processing.
Since Teflon® coatings comply with FDA regulations governing components of coatings for direct food contact, manufacturers in the food processing industry take advantage of that to improve plant efficiency and product quality:
Sugar producers coat their sugar cube molds with Teflon® because of its nonstick, easy-clean, and wear- and temperature-resistance properties.
Cheese manufacturers coat cheese processing augers with Teflon® to solve the problem of dried cheese crust build-up.
Fast food restaurants reduce costs by using a durable coating of Teflon® on aluminum egg scrambler pans, as well as on waffle molds and trays.
Potato chip manufacturers get fewer rejects and more uniform slices by reducing residue build-up when they coat the knives used to cut potatoes.
Cookie manufactures use piano wires that are Teflon® coated to cut the dough into uniform-sized, flat cookies.
At American Durafilm, we help various other manufacturers in coating their food processing devices with Chemours™ Teflon® coatings—of which we are the oldest and most experienced licensed applicator in the United States. We are also an approved applicator of Whitford™ Xylan® and Dykor® coatings, as well as Halar®, Emralon®, Everlube®, MolyKote®, and hundreds of other functional coatings designed to improve and enhance the performance of your products.
And it doesn't just stop at waffles! The next blog in this series talks about how the precious fizz in your carbonated drinks is also the result of our Teflon® coating.