High-Performance Plastics in 3D
It's a process often taken for granted for something that has almost endless applications. Thermoforming involves shaping plastics into a variety of products. But you know that already. And you know it is a tried and true method for heating a sheet of plastic almost to its melting point, then shaping it with a form or a mold to create custom products for very specific requirements. The process itself utilizes vacuum to pull the plastic towards the mold or form, which is why it is also often referred to as vacuum forming.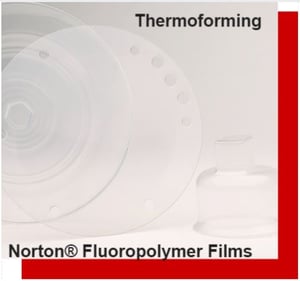 Thermoforming creates everyday plastic products from intricately-designed packaging for cookie trays that your favorite movie-time treats sit in to insulation chambers for space flight. Because we have the ability to create complex mold contours, fluoropolymers like Norton® FEP, PFA, and EFTE can be thermoformed for industrial uses like:
Electrical insulating caps and sleeves
Moisture barrier covers and inserts
Labware
Chemically inert protective coverings
Diaphragms
Gaskets
Protective (tank) linings
Containers
Environmental growth chambers
Solar collectors
Innovative Industry Solutions
Innovative uses like these have transformed the conventional shapes—flat films, sheets, tubing, extruded profiles, die-cut parts, among them—from expensive and cumbersome design challenges to viable three-dimensional, custom-engineered, high-performance thermoplastic materials.
Through thermoforming, we can work with flat films with thicknesses of .002" to .020" and beyond, allowing us to work with the following industries:
Lighting
Pharmaceutical
Chemical
Aerospace
Molding
Electronics
Environmental
Thermoforming Properties
If you have a design challenge and have specific requirements for materials, thermoforming might be your answer. We can form molds up to 20" x 30" with a 6" draw. Overall, the properties of the materials American Durafilm thermoforms provide vast capabilities:
Withstand high temp applications up to 500°F (260°C)
Suitable for cryogenic use -400°F(-240°C)
Autoclave resistance
Visually clear and provide a high transmittance of UV light
High resistance to impact and tearing
No electrical tracking, non-wetting, and non-charring
Anti-stick and low frictional properties
Easily cleaned and reused
Inert for non-contaminating samples
Low permeability to liquids, gases, moisture, and organic vapors
Weather resistant
Chemically inert and solvent-resistant to virtually all chemicals
Norton® Fluoropolymer Film Features
The different Norton® FEP, PFA, and EFTE fluoropolymer films have versatile features, each with certain special characteristics.
Norton® FEP Features:
Outstanding anti-stick release properties
Performance from -254°C (-425°F) to 205°C (400°F)
Exceptional chemical resistance and electric properties
Product thicknesses from 0.0005″ (0.0125 mm) to 0.010″ (0.254 mm)
Widths up to 60″ (1575 mm)
Optically transparent or pigmented
All films are manufactured and converted in Class 100,000 clean room facility
Available in cementable (surface treated) form
Norton® PFA Features:
Excellent dielectric properties across a wide temperature and frequency range
Performance from -254°C (-425°F) to 205°C (500°F)
Highest level of chemical and stress crack resistance
Provides excellent tank-lining performance
Excellent clarity and weatherability
Norton® EFTE Features:
Superior release properties
Excellent weatherability
Performance from -200°C (-328°F) to 165°C (330°F)
Excellent chemical and mechanical properties
Product thicknesses from 0.0005″ to (0.0125) mm) to 0.010″ (0.254 mm)
Width up to 60″ (1575 mm)
Available in cementable (surface treated) form
All films are manufactured and converted in Class 100,000 clean room facility
Over the past 40 years, American Durafilm has developed the art of thermoforming thermoplastic and can turn around rapid prototyping as well. We also are powder coating experts, offering hundreds of functional coatings designed to improve and enhance the performance of your products. We can apply coatings to a variety of substrates materials, part sizes, and configurations—adding value far beyond the inherent nonstick qualities. To read more about the qualities of fluoropolymer coatings and which might be the best selection for your next job, you'll find answers in this white paper, "Selecting the Correct Fluoropolymer Coating for Maximum Performance."